Signed Books
If you can't catch up with Kimberly at one of her upcoming appearances and events, you can order signed copies of any of her books through Liberty Bay Books. Please allow ample time if you are purchasing a book as a gift.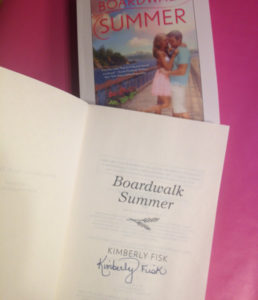 To order signed books, contact:
Liberty Bay Books
18881 D Front Street
P.O. Box 1396
Poulsbo, WA 98370
Tel: 360-779-5909
Fax: 360-779-9746
Website: libertybaybooks.com
Let them know which book(s) you want to order and the name to whom you would like the book(s) personalized. You can also order books "signature only."
Bookplates, Bookmarks & Other Freebies
"What is a bookplate?"
While I would much rather meet you in person, I know that isn't always possible. The next best thing?  A bookplate: a sticker that can be signed by the author, slipped into an envelope, and applied to the front of a book—without any need to mail the book back and forth.  The best part, they're free!
"How do I get bookplates?"
Easily! Just drop me a note below. Don't forget to check the Bookplate box let me know who I should sign the book for and if you have any special message you would like inscribed. I will do my best to honor all requests. Also, don't forget to include your mailing address.
Bookmarks and Other Freebies
Interested in free bookmarks or special swag from Kimberly? Excellent! Just fill in the form below and check the box for Bookmarks. Be sure to watch this space for announcements of other items Kimberly is sending out.